6
The stuff you need to know about social media from the past week or so
I'd first of all like to say a big fat American-burger-style thanks to everyone who has read my blog over the past week since I launched – and particularly those who have left comments, subscribed via email and passed on all the positive feedback.
It has fed m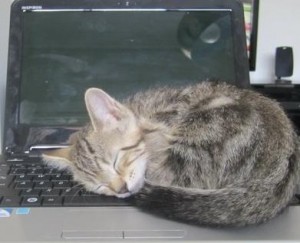 y blogging passion even more, but the only problem is that I have a pretty full life outside of this blog… such as working, going to the gym, watching Dexter, speaking to my mum on the phone and very occasionally even socialising with friends.  Oh and playing with my cat, Oli (left) [ blatant excuse to post totally unrelated pic of my cute kitten= guilty].  Anyway, this means that it's not always easy for me to find the time I need to write such outstanding intellectual, thoughtful and unique blog posts that will eventually lead to me being named Time's Person of the Year.
Or maybe I'm just lazy.
Whatever the cause, the point is that I discovered a way that I can write a post every now and then without putting in too much effort, but still providing really awesome and interesting info for my dedicated readers (note: I will still be posting lots of original self-written articles, so no need to be overwhelmed with concern).
Basically I use everyone else's hard work instead of using my own head. Yep, I'm going to put together a quick overview of the most interesting social media stories from the past few days (or week) so that you can keep up to date and I can ride on other people's coattails. I love a situation where everyone wins!
So here's the first one:
'Memorable Stories' show up on our Facebook, reminding us of our past statuses
Some of you may have noticed recently when you click to view a post on Facebook, a random list of your past statuses are displayed in a box to the right of the page.  I've been really enjoying reading some of my little gems from months and even years ago, but it appears others have not been so happy.  A further issue that has been raised is the fact statuses that you may have deleted will still appear – not only potentially reminding you of something you'd rather forget, but also proving that facebook retains all your data, whether you delete it or not.
Read more: http://www.readwriteweb.com/archives/deleted_status_updates_appearing_in_facebooks_memo.php
PS. I did just go back to my Facebook page to try and get Memorable Stories to appear, but facebook seems to be defying me at this point.  I wonder if they have removed the feature after testing identified these issues? I'll let you know if I hear more (I know you are waiting on the edge of your seat).
Facebook and Twitter named as the most unsafe social networking sites for 2010
This story was particularly awesome, given they are two of the most popular sites in the world. Great! Basically some Internet security company completed a study that identified these two sites as being 'the most affected by security breaches'.  Apparently cybercriminals are gaining access to our accounts by hijacking Facebook's like button, stealing our identities and sending out messages from trusted sources, exploiting vulnerabilities in Twitter to run javascript code and distributing fake apps that redirect users to infected sites.  And so on. Oh and also they mentioned it's pretty much going to get worse.  So be careful!
Read more: http://socialmediatoday.com/steve-olenski/259246/facebook-and-twitter-most-unsafe-social-networking-sites-2010
Facebook to supply  phone number and address to third-party apps
Just when we were all feeling nice and cosy in our security of using Facebook (or not), good old Zuckers has decided to share our personal contact information to third-party applications (think Farmville or MafiaWars, etc).  It makes sense really – nothing like a midnight call from someone in India asking you if you've harvested your crops lately.
Read more: http://www.readwriteweb.com/archives/facebook_now_shares_phone_number_address_with_thir.php
Facebook  suspends sharing of phone number and address to third-party apps
You can put away your virtual pitchforks for the time being as just as quickly as Facebook announced your contact data was about to go viral within the app universe, they back-tracked faster than our good friend Gerry Harvey in the face of the offshore GST campaign (poor old Gerry didn't know what he was getting up against, going against a mob of angry online shoppers who were more than happy to take a few mins away from their latest ebay auction to unite against him… didn't he realise the words ADDED and TAX wouldn't sit well with us digital Aussies?)
Anyway, the point is old mate Zuckers wised up to his mistakes and backtracked Harvs-style by putting this plan 'on hold' so they can come up with a process that would make users "more clearly aware" of the fact they would be receiving imminent communications about how their chickens were doing in their virtual farm, or how much dope they needed to deal that week to stay on top just by clicking a little 'allow' button.  Watch this space closely.
Read more: http://www.readwriteweb.com/archives/facebook_suspends_controversial_data_sharing_featu.php
Happy 10th birthday Wikipedia!
This one is bound to make you feel old – the website that we all depended on for at least 89% of our assignments and essays has reached double digits.  Ten years ago this little gem was founded by two pretty smart guys and has grown to about 50 full-time staff, with over 35,000 contributors who post, edit and update articles.  We love them even more because they decided against paid advertising for the site. Oh and they have no interest in feeding our personal details to third parties!
Here's to another 123,489,389,298 essay definitions over the next ten years Wikipedia!
Read more: http://www.socialmedianews.com.au/wikipedia-now-10-years-old
The iPhone 5 tipped to be a completely new design
The next launch of the Apple iPhone – due for 'this summer', which is otherwise known as the Australian Winter, is apparently a "completely redesigned handset" as well as a "total rethink from a design standpoint."  Apparently the next version will let us pay for things, be our digital personal assistants, somehow integrate facial recognition and be able to fetch a beer from the fridge. Sounds good.  (PS. Evidence supporting the last point is currently non-existent).
Read more: http://www.readwriteweb.com/archives/iphone_5_completely_redesigned.php
So that's pretty much all you need to know in social-media-world at this stage.  I'll keep you posted.
Ciao!