118
How to link your website to your Facebook Page or Profile for Insights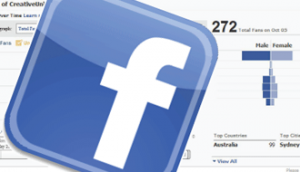 Generally speaking I consider myself to be a pretty decent social media expert. I spend hours every day reading about, thinking about and doing social media. It's both my hobby and my job. Despite this, every now and then I come across social media things – big things – that I didn't know about. When these things relate to Facebook, I get even more cross with myself. But then I think, is it really my fault, or should I blame Zuckers for being so shit at communication? Yep, I'm pretty sure it's all his fault.
Anyway now that we've deflected all blame from me, let me get to the point. Today, on a search for insights-related information, I stumbled across a Facebook feature where you can link your website to either your own profile or one of your pages. I truly had no idea that this feature existed, so was unsure what it really meant. No better way to find out than give it a go. I used the fairly basic web skills/literacy I had to add a meta tag to my site, and voila, all of a sudden I had all these awesome stats right before my very eyes.
If you already knew about this, and are sitting there completely awe-struck at my ignorance, mentally erasing my name from your mind while you unlike my Facebook page, delete my website bookmark and unfollow me on Twitter, then you can exit this page now and have a great rest of your life.
However if you share my ignorance in this matter, and find it of interest you can read on. I'm going to first outline what insights you get access to by joining the two, and then tell you how to do it yourself if you think it's as awesome as I do.
Website Facebook Insights
So what do you get by joining your website and your page/profile? A bunch of statistics that essentially let you know how many people are sharing your website content on Facebook, how many impressions you have gotten of that content on Facebook, and how many people have then visited your website through that shared content. For example, someone goes to my site and shares one of my articles on Facebook, because they find it to be just the right delightful mix of humour, information and insight (of course). This post of theirs is then seen 319 times by their Facebook friends and/or subscribers. 23 of these friends (the intellectual ones with awesome sense of humour) then click through to read the article themselves. All of these actions would be recorded in the Insights section.
Note: I have just discovered there seems to be a discrepancy in the statistics Facebook is displaying with the real share data on my site – over the past month there has been much more than 39 shares/likes, just going on the plug-in data (not even counting organic shares). I think this may be a result of Facebook not supporting the 'Share' button anymore (in this section it only lists Like, Send and organic share), but I'm not sure. Though it may not give 100% accurate information, I still find it to be really helpful.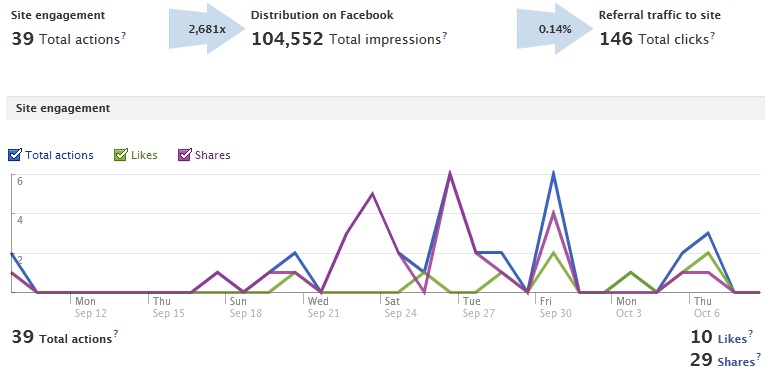 The graph above illustrates over the past month that a link to content on my site has been shared 39 times on Facebook, which has resulted in 104,552 total impressions and led to a click-through rate of 0.14%, or 146 people clicking through to my site.
Facebook then illustrates this data in graph format, so you can see when the links were shared, and whether they were shared by 'likes' or 'shares'. Pretty cool.

The next graph shows you how many impressions each type of share (like or share) received over the month. As you can see, the shares led to a much higher number of impressions than the likes. This was partially due to the fact there was almost three times as many shares as there were likes.

The last graph displays the total clicks over the time period, also displaying which came from 'likes' and which from 'shares'. As you can see here, shares once again were much more successful than likes in encouraging people to click-through to my site.
There's nothing earth-shattering about these stats, and you can track how many times your content is shared on Facebook through social plugins and analytics tools. However, the impressions and clicks data I had not been tracking previously through any third-party analytics services, so I find this really interesting.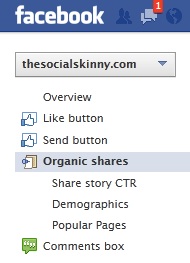 More details
As if that wasn't enough, Facebook also allows you to drill down further into each share type – the like button, send button, organic shares and the comments box. For each of these features that you are using on your site, you can drill down into more detail about the impressions and CTR per day, the demographics of people sharing your data and Popular Pages.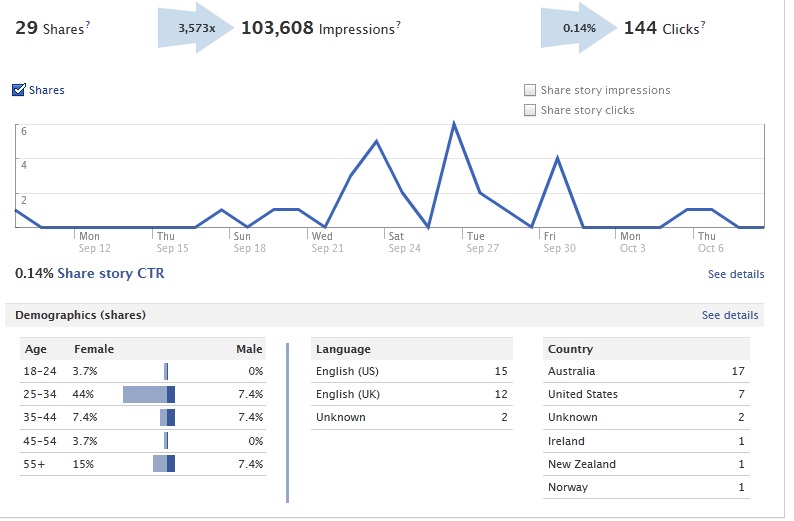 So how do you link your website with your Facebook Page?
It's pretty easy.
Click on the 'Insights for your website' green button up the top right of the page
Click on the 'Link with' drop-down menu (see pic below) and choose the Page you would like to link your site with. Or alternatively, you can link it with your own profile if you don't have a Page for your website.
Take the meta tag that Facebook displays underneath this drop-down menu and add it to your root webpage. I did this by editing the header.php file of my website, and sticking this meta tag in before . If you don't know how to do this, you can probably google it or ask a web nerd you know to help you out. It took me a matter of seconds, so I can assure you it can't be hard.
Click 'Get Insights' and as long as you put the right meta tag into the right place, you're done!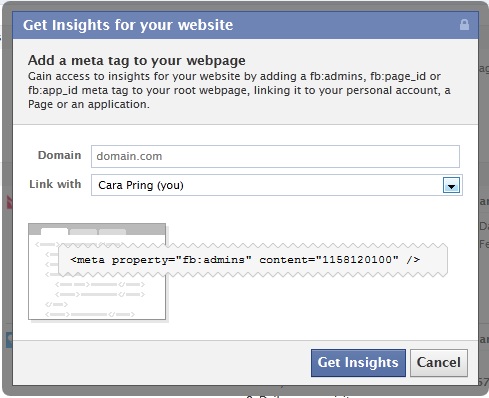 Did you know about this feature before? If so, please leave your derisive comments below. If not, please leave messages of encouragement and thanks below, so that I can feel safe and secure in the knowledge it wasn't just me.
Lastly – what do you think about this? I was pretty excited to learn that my site had had over 100,000 impressions over just one month on Facebook, even though I'm not getting quite the same level of sharing as some OTHER social media sites (we know which is better, right?). But maybe it's just me. Is it?