3
Getting likes on Facebook: to like-gate or not?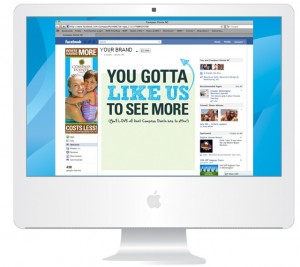 The first thing people are always concerned with once they have set up their facebook page is to get more likes.  It's kinda like they are back in high school trying to get as many people to sign their year book as they can lest they look forever like the little nerdy four-eyes who got picked on by the 'cool kids' (who incidentally are now all on welfare and have venereal disease).
Brands seem to think that the more fans they get the more likely they will be to succeed in 'social media marketing', get tons of sales and ultimately take over the world.  But is this really true?  The simple answer is no, but we'll get back to this later.
For now I want to talk about the popular act of like-gating – or what I like to call 'the Like-gate affair' – mainly because it sounds like the Watergate affair and is thus a clever pun that makes me look smart. Win!
So what is like-gating you may ask? It's that annoying practice that many brands love to employ that forces you to like their stinky page before you can enter a competition, download an e-paper or gain access to some other thing you want from their page.  Basically they are striking a bargain with you – if you commit to hearing incessant marketing messages from them forever they will in turn offer you a one in one billion chance at winning a trip to Birmingham, a BBQ or two hours of shitty consulting from their firm. Everyone wins! But do they really…?
Whilst I may have made it seem like some devilish strategy employed by ROI-hungry evil marketers I actually think like-gating is fair enough (of course a disclosure here would probably say something along the lines of I AM an ROI-hungry evil marketer myself…).  But it doesn't cost you anything to like a page and really if you want to get something from them (or have a chance at getting something from them) it seems like a pretty fair exchange to me – particularly as if you are smart enough you can just unlike their page later when you inevitably find out you didn't win squat.  So no, it really doesn't hurt the average Facebook user to take part in the Like-gate Affair.
But is it really the best way for brands to secure their thousands (or tens of thousands) Facebook fans? The answer to this comes back to the first question I posed all those paragraphs ago about whether brands should indiscriminately clock up as many Facebook fans as brand-mly (as opposed to humanly) possible.
Because the success of businesses is always determined by numbers (revenue, profit, sales, customers, click-throughs, hits etc) the same principle is naturally applied to social media marketing.  But because typically the use of these channels is not meant to be direct-response – ie you generally don't track sales or revenue etc – what numbers will determine success? The geniuses responsible for the company Facebook page or Twitter account naturally turn to the easiest figures to track – the number of fans or followers.  It is such an easy number to determine (let's face it it's sitting there plain as day and updated in real-time), it's not hard to increase (run a few competitions shall we?) and it makes your brand look popular which generally pleases senior management.
HOWEVER, lots of Facebook fans does not a social media success make.  Of course it can help a lot if all of these fans are actually interested in what you have to say/sell. But the chances are if you have forced people to like your page so that they can be in with a chance at winning an iPad, a fair percentage of them don't really care about your brand, what you have to say or what you're selling. Sure they make your brand look digitally popular, but the problem is when your content is getting hardly any engagement despite the fact your fan-count is fairly decent, well you look even more unloved.
Think about it this way: would you bother making an effort to build up an email list or telemarketing list of people who weren't interested in your brand and would never buy from you? No, because it's a waste of time and effort and they aren't helping your business at all, let alone your success metrics.
Competitions can still be a great way to build your community but the trick is to offer prizes that are relevant to your product/service – that way you know the people who are liking your page because of the competition are interested in what you're selling because that's what the prize is.  Don't offer an iPad if you're a restaurant and don't offer a trip overseas if you're a web marketer. Yes you'll get lots of likes but most of them probably won't care about what you have to say on Facebook, let alone spend a cent on your business.