3
Getting creative with social campaigns: the story of MOG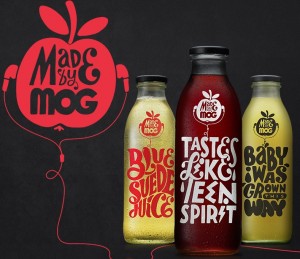 Too often I find that when brainstorming for 'great' social media campaign ideas we limit ourselves to thinking about what would work well online. It's a natural connection to make – the social channels we want to harness are in the online world, so we often automatically think about what we can do online to stimulate connection or conversation.
However I think it's often worth considering the options that involve the offline world because these tend to be the ones that get more traction. When you've got something that's tangible – and even better that people can take a photo of, touch, taste, feel etc – you've got something that people will be more likely to share and talk about. And that should be what your social media campaign is all about – conversation and traction. It may not be as easy for them to like your Facebook Page or buy something from you, but it's more likely to get you more awareness and stimulate excitement and enthusiasm for your product or service. Like any campaign it comes down to your objectives (and likely budget), but getting creative with social campaigns that involve major offline elements may be a great idea, particularly if you're launching something new.
One example of a company that has thought outside the box is Telstra with their new MOG music streaming service. If you haven't heard of it, it's basically a music streaming subscription service that allows you to stream music (duh), create playlists etc. It's not exactly a 'new' concept out there, but what they did to launch the service was unique.
The Story of MOG – creating juice from tunes
Telstra and [email protected] worked together with a western Sydney fruit farmer to investigate the theory that sound encourages plant growth by playing tunes from MOG to an orchard of fruit trees that were then used to create a special fruit juice.
They then shipped crates of the juice to people around the country so they could taste the difference for themselves. I was lucky enough to get to taste three versions of the Made by MOG juice, and I have to say my favourite was the Blue Suede Juice – 'a rockin' fruit juice that was made from crushed apples grown to the sounds of Elvis Presley, Johnny Cash, Eddie Cochrane, The Everley Brothers, Chuck Berry, Roy Orbison, Johnny Rivers, Jerry Lee Lewis, Little Richard and Buddy Holly. I have to admit I felt a bit of a traitor to my generation not favouring the 'Baby I was grown this way' juice which was made from the tunes of Gaga, Rihanna, Adele, Katy Perry, Britney Spears and an array of other female stars of this decade.
My verdict? They were pretty tasty. I don't know if it really was the MOG tunes that made them that way (I don't want to steal credit from the apples themselves), but the concept of the campaign was nonetheless interesting. You can't deny that they thought outside the box for this one, and as a result there's been a lot more excitement and conversation about MOG than it's likely there ever would have been had they launched with an online-only campaign promoting the service.
Win a $100 Ticketmaster voucher and/or a one-month subscription to MOG
If you're in Australia and would like to win a $100 Ticketmaster voucher and a free one-month subscription to MOG, I'm running a simple competition on my Facebook Page here: https://www.facebook.com/thesocialskinny/app_172365919581767 (don't forget to like it too 😉 ) It's only open to Australians unfortunately and the competition closes 1 April 2013. All you need to do is share your email address and let me know what music you'd play to a fruit tree to make the tastiest juice.
The grand prize will win $100 Ticketmaster voucher and a one-month free subscription to MOG, and 9 runners-up will receive a free one-month subscription to MOG.
Good luck

Conclusion
Next time you start brainstorming some ideas for a social campaign, try to think of some offline ideas that are unusual, funny or interesting that may just get people talking and sharing more so than something you do online. If you execute the right way, you might find that the results blow you away.