2
Windows Vs. iOS: The War On Mobile Devices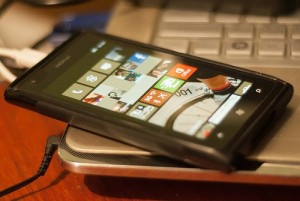 In the 1990s during the home computer revolution, it was Windows versus Mac. Now it's a whole new decade and competition has gone mobile. Once again, Mac is out in the lead with the revolutionary iPhone. Windows has finally entered the fray with the new Windows Phone 8. How does it stack up against the iPhone? Let's compare some of the features.
Camera Quality
The iPhone camera has always been a strong feature. It has proved to be reliable and high quality. However, when compared to the Windows phone camera, the iPhone has actually been surpassed. Surveys have found Windows 8 Phones to be the best phone cameras available. Its low light capabilities trump those of the iPhone, and the ratio of in-focus images also edges out those of the iPhone.
Phone Search
iPhone's Spotlight Search is very effective and easy to use. There really isn't an equivalent in the Windows phones. In order to find a contact you need to go to People, find ALL people, tap the magnifying glass and type in a name. Just not as simple and efficient as what iPhone offers.
Contact Sharing and Calendar
If you're using calendar and contact services that you wish to sync to your PC, Windows phones work great for that. They also interface perfectly with Outlook to add attendees and accept meetings. This is a bit of a weak spot for the iPhone.
Photo and Video Uploads
Unlike the iPhone, Windows phones allow you to upload full-sized images and videos to SkyDrive. To help preserve battery life it gives you the option to upload only over WiFi if you choose. This makes it almost unnecessary to ever connect to your computer. iPhone hasn't quite reached that point.
Maps and Navigation
This is hard one to call because Apple Maps suffers from inaccurate and incomplete data when it comes to their maps, but the functionality of the app is excellent. Windows phones, however, have reliable data, but the experience is challenging. Of course they're still in their beta phase and this should improve over time.
Live Tiles vs. Icons
Windows phones use Live Tiles that appear as large icons that display real-time information. This makes it unnecessary to open the app. These are particularly useful when checking the calendar or mail at a glance and viewing the latest appointment or email. If you've only got time for a quick peek, like during a meeting, this feature of the Windows phone is extremely useful.
Page 1 Apps
At this point Windows phones may not have all the apps you may want in a Smartphone. Apps like Facebook, Netflix, E*Trade, and Evernote work as well with the Windows phone as they do with the iPhone. But apps like Flixter, ESPN ScoreCenter and Epicurious lack full functionality with the Windows Phone. And you can't get HootSuite, MailOnline, WatchESPN, Google+ and many other apps. These and other unavailable apps make Windows phones a bit more limiting. However Microsoft have made apps a huge focus area, and there are over 400 apps added to their ecosystem every single day, which will hopefully lead to them catching up in the near future.
Technology marches as the battle between these two giants heats up again. It still may be early at this point to know how it will end, but generally the consumer benefits from this kind of competition, regardless of who ends up ahead.

Guest post by Joseph Stark Jr: Joseph Stark Jr. is a freelance writer and blogger by day, focusing on technology and business. By night he is a tech junkie, gym member, and avid writer. He currently resides in Santiago, Chile where he continues to write and contribute to a number of high-profile blogs.
Resources: http://techpinions.com/leaving-the-iphone-how-windows-phone-8-stacks-up/14044