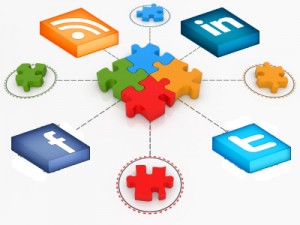 Pre-recorded webinar + email support (ie. send any questions or feedback you like!)
Devising a social media strategy is a crucial step to successfully using social media in your business. Without one you will inevitably end up with an ad hoc approach, no clear goals and an underperforming Facebook Page, Twitter account etc.  You won't be able to effectively track and optimise to make sure you are making the best use of your precious time. You also probably won't have a clear idea in your head about each channel (eg. Facebook, Twitter, YouTube, LinkedIn…. etc), which are the best for you to be using and where you should be spending most of your time/effort/money.
The problem is that you don't have much spare time and this whole strategy business is a bit scary because you don't know exactly where you should be starting. It's much easier just to get in and do it because at least then you're doing something. Well now you can not only be doing lots of things, but also have a clear defined strategy outlining the who, what, where and how that will help you get more from your efforts as well as give you a legitimate document to show to managers, partners, staff members or any other important stakeholders you may have. Everyone wins.
This webinar is designed to walk you through every step of creating your social media strategy, so that by the end of the 1.5 hours you can sit down and write your own immediately in much less time and with much less stress.
I have been responsible for numerous social media strategies over my career, including Qantas, Bupa, MBF, HBA, Servcorp, Bank of Queensland (franchise) and The Growth Faculty. You can read a bit more about me and my past experience on the About Page
Cara,
Just did your strategy webinar and must say it was pretty damn good!
Post 15 years in finance in Oz and the UK I am in the process of a complete career reboot and am starting up a new business providing digital marketing services (specifically email, social and strategy) to local and small businesses in South West London. Over the last 3 months I have devoured a shedload of content and dusted off some old marketing textbboks (Uni of Newcastle, almost went to the Gong!) and your content on strategy is the best and most useful I have found.
Thanks very much – i'll be sure to keep a keen eye on your blog.
– Mark, Grow with Digital (UK)
Hi Cara
Finished watching this over the weekend – another great webinar.  It was absolutely packed with stuff.  Ten pages of notes! 
It gave me loads of ideas not just for putting together a strategy but also for presenting the benefits of social media to prospective clients.  I thought the examples really helped to clarify what kind of things you could include in each part.  A great framework to organise my thoughts and plans 

  It was higher level than I expected but that was good because you can get the details re the different channels and approaches from all over the place – books, websites, etc – but it's good to have something to fit that into and to remind you WHY you're doing it in the first place.  Excellent value again.
I have no doubt I'll have some questions once I start applying it but for now it's really boosted my confidence in being able to present what I do professionally.  I find you very easy to listen to and very approachable.
Many thanks
Lucy (UK)
Why should I pay for a webinar?
Excellent question. There are a few reasons why paid webinars are typically better than free ones:
I'm not selling anything, so the whole webinar is not a sales pitch or teaser
The content is 100% practical, actionable and helpful – you absolutely will have takeaways that you can implement straight away
By taking your money I am under pressure to deliver the highest quality webinar
The focus is on quality, not quantity. I don't want to build up a database of people to market to in the future, I just want to help people get better at social media.
NOTE: to see a full list of upcoming Social Skinny social media webinars, visit the Social Media Events & Training Page.
How to write a comprehensive Social Media Strategy
Description:
Where to start when devising a social media strategy
What research you will need to undertake first
A step-by-step overview of the 12 steps you need to take to complete the strategy
A detailed description of all strategy sections, from executive summary to budget and KPIs
The next steps after completing your strategy
Register Now: