3
5 reasons you may be failing at social media for business
Yes we all know social media is the answer to all our business problems. It's going to make us millions, and we won't have to hardly do anything or spend any money on it! Right? Well, maybe. But maybe not. If you've started delving into the wonderful world that is Facebook, Twitter, YouTube, Blogs, Google+, Pinterest and all those other glorious social networks and are starting to wonder why things aren't turning out to plan, I've got a few tips to help you get back on track.
So why might your social media efforts not be getting the best results for your business?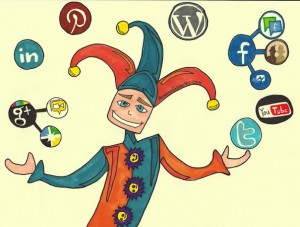 1. You're using too many channels. The thing about social media is that there's always a new network to get involved with. If you're doing social media at all there's some sort of natural tendency to feel as though you need to be doing all of it. Like having a Facebook Page is not enough – why aren't you doing Twitter, and Pinterest, and YouTube too? Why don't you have a corporate blog while you're at it?
And the frustrating thing is that it's not just you asking yourself that question, often it's your managers or senior stakeholders posing the question to you as well. Every time a new network pops up it's like a race to get on there so you can pop another social media icon onto your website and email signature. Well that's great that you're enthusiastic, but the problem is you're putting too much on your plate. Doing social media well is not about being everywhere. It's about choosing one or two of the most relevant and useful channels for your business and doing them really well. So if you don't feel like you're getting the best results from your social media efforts have a think about culling some of your channels and sticking to just one or two.
2. You're adhering to the 'build it and they will come' mentality. So you've got a Facebook Page and a Twitter account. You've even signed your business up to Pinterest and Google+. You're all across this social media shit! Except… no one is joining your social media communities or speaking to you. What is going on? Does that sound familiar? Here's why: unless you're a major household brand, people will not  automatically find your social media channels and join them. You need to promote them, and you also need to provide an incentive or compelling reason for your customers (current or potential) to join you.
So send some EDMs, include your social channels in your email signature, do some Facebook advertising, run a competition, spend dedicated time every day to joining the conversation. Most of all, keep reading my articles – like how to get more Facebook fans – so you get all the hot tips. Then send me flowers/millions when you make it big.
3. You have a non-existent or confused social media strategy. Why are you doing social media? What do you hope to achieve? Who are you trying to engage with? How are you using your social channels so that it will actually help your bottom line? Why are you using the channels you're using? Should you be using Pinterest for business? Why aren't you using the channels you're not using? Valid questions, the lot (plus some awesome cross-promotion: 20 points to me). Can you answer them all? Do you really know why you're doing what you're doing on social media? Do you know what you're doing? Probably not. If you haven't taken the time to sit down and write a comprehensive social media strategy before you get stuck in, you're probably not going to be doing a great job of it all.
4. Limited senior stakeholder buy-in. You know social media is awesome and can make a real difference to your business. If only you had the time and resources to get there. The powers that be in your business still aren't buying into the whole social media thing and even though they agree you should be trying it out, they aren't willing to put any actual budget or manpower behind it. You can just do it, along with all the other stuff you have to do in your role. It's easy, right? Wrong. Social media requires a lot of time and effort – and preferably a decent budget. It's not something you can do really well by spending 5 minutes every second day. If the people at the top aren't willing to invest in your social media strategy and activity, you're pretty much screwed. Sorry. However, you could send them my article about the 10 reasons to increase your social media budget in 2012 and hope they take notice of it and give you millions to play with. (another 20 points for me)
5. It's all about the marketing, marketing and marketing. If your social media strategy is only about marketing then the chances are you're going about it all wrong. You can't start social media channels and then use them as broadcasting platforms just like other marketing channels. There's a reason it's called social media. You can definitely use it for marketing and you can definitely get sales from it – but don't try to do this 100% of the time. Make sure you invest time and effort into the conversation and customer service element too.
Do any of these things look familiar to you? Or do you have some other reasons why social media isn't working out for you?