1
14 ways to boost your Black Friday sales via Social Media
Running some hot deals for Black Friday or Cyber Monday and want to leverage your social media accounts like Facebook and Twitter to drive more sales? Good thinking 99 (if you don't get this then either be older or watch more TV). Social media is the perfect way to promote those hot offers to your customers! Post 'em, tweet 'em, stick a video on YouTube, hell you could even G+ the hell out of them or shoot a post to LinkedIn. Advice provided, end of article.
JUST KIDDING. Below there lies 14 outstandingly amazing tips for boosting your Black Friday and Cyber Monday sales (you could even apply these to other sale periods too if you REALLY thought about it). Read them and as you nod your head in total and utter agreement (and accompanying amazement at my sheer brilliance) get to work on your Sale Social Strategy to make sure this holiday period is your BEST YET. Then donate 10% of all your sales to me for making it all possible.
Enough rambling, let's CUT TO THE CHASE:
Build Suspense
1.       Build up excitement leading up to your sale with competitions, games and suspense posts
Why wait until your sale is on to generate excitement about your product and deals? Start teasing your customers by hinting at what is to come by running competitions, playing games and posting hints and teasers. For example you could run a  Facebook competition that awards five entrants $100 to spend during your sale period. Get your Facebook fans to guess what products will be on sale or post things like 'Black Friday is just a few days away and we've just gotten approval to mark this down by 50% Anyone guess what it is? The image posted can be blurred or hidden by an exclamation mark or similar. The idea here is get people pumped for your sale before it even starts, so the minute Black Friday hits your site (or store) will be the first place on their sale list.
2.       Implement a countdown on your cover page or profile picture
What creates more excitement than a McDonalds ice cream cake at a kids party in the middle of a desert (why would they be in the middle of a desert? This could be the basis of some sort of reality TV Show?) COUNTDOWNS. Countdowns work really well to generate anticipation in any audience. So highlight your Black Friday sale countdown by updating your Facebook cover photo or Facebook/Twitter/Instagram/other social network profile picture daily for the week prior to display how many days to go until the sales are on.
3.       Tweet/post countdown updates – eg. 5 days to go, 2 hours to go etc
Be sure to keep tweeting and posting countdown updates too – especially when you get down to just hours to go until your sale. Don't let them forget that it's coming. In saying that, there is a fine line here, don't be spammy. You don't want to annoy people by spamming their feed with Black Friday sale updates – just find the right balance.
Promote Your Deals
4.       Provide exclusive offer access on Facebook via apps, or through other channels via promo codes
The only thing your customers like more than a SALE is an EXCLUSIVE SALE. Want to generate even more excitement via social media and prompt sharing? Share exclusive deals via social channels and/or provide exclusive promo codes to your social followers. This might even be something as simple as free shipping (on top of your site-wide deals) to those who enter in the SOCIAL promo code. Or you could get even more exclusive and create a Facebook app via Shortstack that reveals a new deal every day (or hour?) for your Facebook fans to access and share.
5.       Hit them with all your accounts
This one is kinda a no-brainer, but make sure you go out with your Black Friday / Cyber Monday sale details on all your social accounts (and email). The more they see it the more they won't be able to resist your awesome amazing crazy sale.
Encourage sharing/viral
6.       Add social share buttons to your product pages
If you haven't already, you definitely should add social sharing buttons to all of your products (if online – obviously this is difficult to do in-store unless you have NFC or something). This makes it easy for people to share and like their favorite products in your sale so their friends can take advantage too.

7.       Add social share buttons to your purchase process
Aside from adding social share buttons to your product pages, you should also add them to your purchase process, so that once customers have bought from your site they can easily share their purchases with friends (and will likely reference the amazing deal they got in the process). This will further boost your Black Friday deals!
8.       Run a competition in conjunction with your sale that that prompts sharing/voting
Run a sales-related competition through your Instagram, Twitter and/or Facebook Page that prompts people to share a pic of them wearing/using their sale item, or just what they most want to buy etc and then prompt them to share the competition for more chances to win, or share with their friends to vote for their entry. Getting the competition viral will help gain exposure for your sale, as well as increase your community size. Instagram and Twitter are pretty easy, and you can now run a Facebook competition straight through your wall, or of course you can always do via an application (again, easy to do using Shortstack).
9.       Make product/category sale easily shareable – eg. '30% off all shoes' share this deal/page
Post images with your sale information on them to your social sites so that this is easily shared. Also make sure you update your website pages / meta-data so that when your website is shared an appropriate sale image comes up. Tweet out all your different deals so users can choose which ones to retweet. Pin images with your offers written on them to Pinterest, for easy re-pinning. Make sure you make it as easy as possible for customers to share the word about your sale.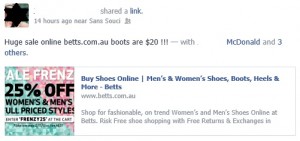 10.   Offer a super deal for your customers that spend over $X online – allow them to share access to this offer online (limited to X number of people)
Add in an incentive for customers to spend a minimum amount on your online site – it could be something as simple as free shipping, or you could get creative and reveal access to a super special offer (ie. 50% off something or similar) that is not only available to them but a limited number of their friends. This will make them more likely to want to take advantage of the second offer, spend the initial minimum amount to receive the offer and also share it with their friends. Wins all around!
11.   Promote your deals via a Facebook offer
Reinforce your posts with official Facebook offers and put some marketing dollars behind it so that more people will see it. This works particularly well if you target friends of your current fans. Offers are also notoriously shared (more than posts), so this will help you get your sale viral.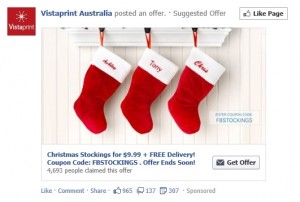 Drive urgency and excitement during the sale
12.   Promote out of stock messaging, low stock and units left via tweets/updates
You know what helps generate excitement about your Black Friday or Cyber Monday sale? The thought that people might miss out on it. If you've heard of FOMO you know what I'm talking about here. FEAR OF MISSING OUT. Start updating customers when products have sold out or have just a few units left. All of a sudden you'll see an influx of people buying up big, because if others are buying it then it must be worth buying. And aint nobody got time for MISSING OUT ON BARGAINS! That doesn't make sense, but you get the meaning.
Capitalize on physical retail
13.   Create a Facebook Event for your in-store sale
Not only will you get more people aware of your sale, but every time they 'join' that public event, you'll be getting free viral exposure! You can also post updates and sale details through the event, plus people can 'check-in' to it… which brings me to my next point! (master segue Cara, well done.)
14.   Check-in incentives in-store
Leverage the extra foot traffic you're getting by incentivizing your customers to check-in to your store. Whether you give them a small free goody or an extra discount, or put them in a competition to win something, the more people that you can get to check into your Store (or event) the more viral exposure you'll get. Plus, you'll just look ultra popular!
So there you have it. 14 amazing tips for you to increase your Black Friday, Cyber Monday and Christmas sales this holiday season! If you've got some other ideas, be sure to share them in the comments below.
Oh, and I'm going to need that 10% commission 😉